Look out MySpace and Facebook, Google has decided to enter the social networking game. Google announced the launch last weekend and has just opened up beta testing to a select number of people. I think this is a great move by Google and will quickly become a contender in this space.
Google Friend Connect is a service that helps website owners grow traffic by enabling any site on the web to easily provide social features for its visitors. any website owner can add a snippet of code to his or her site and get social features up and running immediately without programming — picking and choosing from built-in functionality like user registration, invitations, members gallery, message posting, and reviews, as well as third-party applications built by the OpenSocial developer community.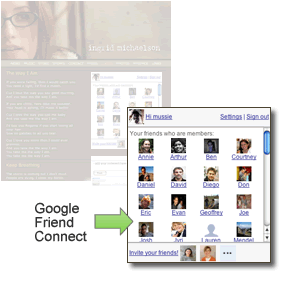 Google Friend Connect boasts the following high-level features:
Attract more visitors to your site – Visitors bring along friends from social networks like Facebook, orkut, and others to interact on your site.
Enrich your site with social features – Choose engaging social features from a catalog of gadgets provided by Google and the OpenSocial developer community.
No programming whatsoever – Just copy and paste snippets of code into your site, and Google Friend Connect does the rest.
There are a couple of demo sites already setup which you can test and interact with.
If you're interested in being part of the beta testing group, you can apply directly on their site here. I just applied today so hopefully I will get accepted and can start using Google Friend Connect on eBlog Templates.
Ready to super charge your blog? Check out our partners professional premium WordPress themes!
If you like this post then please consider subscribing to our eBlog Templates RSS feed. You can also subscribe by email and have new templates and articles sent directly to your inbox.