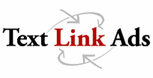 In the first article of our series, "How to Make Money From Your Blog – Tip #1" we covered the most popular and easiest way to monetize your blog using Google AdSense. Our next tip is another great way to create a steady flow of income from your blog on a monthly basis.
Believe it or not, it's by selling text links on your blog. Yup, you heard me right — people will pay you to put links on your site.
Why would people buy links from my blog?
That's a very good question and there's several reasons. The most popular one being it helps their site rank higher in search engines like Google and Yahoo. Essentially, the more backlinks you have pointing to your website, the more important your site is (in Google's eyes).
There are many other factors involved and I could write an entire article about it but we're going to stay on track. Another reason is because buying links from another site drives additional traffic to their site but this is seen more as a bonus since 99% of people who buy links do so for the backlink value.
That's great and all but how do I get started?
You could easily build your own advertising page and tell visitors "Text links for sale" but you most likely won't make any sales (unless you've got a really popular site with lots of traffic already). So instead, let's leave the sales, marketing, and invoicing of your links to a 3rd party who's already established in this space.
I use (have been for a few years now) and recommend Text Link Ads. They are a well established link buying and selling company which means you don't need to do anything except add your listing, set a price, and approve new links.
Personally I like selling links through TLA better than Google AdSense because it's guaranteed monthly revenue. Google AdSense is CPC which means you only get paid when someone clicks on your ad. Using Text Link Ads, you get paid just for letting someone put a link on your site. You set the price, they buy the link, you get paid. It's that simple. I make several hundred dollars a month from different niche blogs just by selling links using TLA.
Step #1 – Sign up for Text Link Ads
This is the first step for any new advertising program and usually the hardest. TLA carefully selects which sites can be added to their network so if your blog is brand new, then you should wait at least 6 months before applying. If decide to apply anyways and get denied, I'd send them an email and ask to be manually added.
Their automatic approval system runs some basic calculations on your site (blog age, page rank, popularity, etc) which determine whether you'll be approved. I've actually been rejected for a couple of my blogs but when I emailed them, they manually approved them. Sign up for Text Link Ads and start selling links today!
Step #2 – Add your Listing to their Marketplace
Assuming you've been approved, you can now login and setup your site. This is where the power of TLA comes into play. They have a virtual marketplace where you list your site and hundreds of visitors (if not thousands) a day have a chance to see your site.
You'll enter your site title, a brief description, select a category where your blog belongs, how many ad spots you have available (Blogger limits you to only 5 per link widget but you can have two widgets for a total of 10 links), etc. The price is determined by TLA but again, it's negotiable. I've emailed them asking to raise the price on at least two of my blogs and they did it no problem.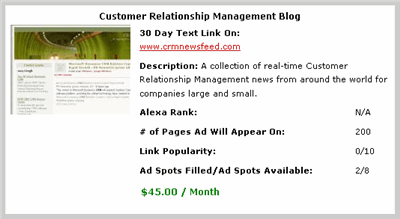 Once you've added it, your listing will look something like the above screenshot. This is what anyone visiting the TLA marketplace will be able to see.
Step #3 – Installing the TLA Code onto your Blog
This may sound intimidating especially if you're not comfortable editing template code but it's simple. Text Link Ads has a wizard script that walks you through the entire process. The only part you need to do is create a new page element on your blog (you must be using the new xml Blogger templates to do this).
Here are the two steps you need to complete within your TLA account before actually going into your Blogger template page elements.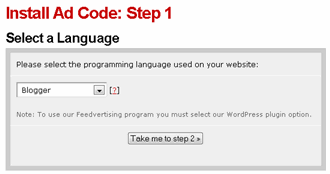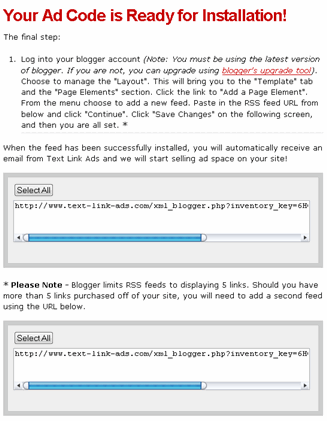 Now that you've got the code, you can just follow the instructions that TLA provides about plugging this into your Blogger template. Once TLA verifies that the Ad Code you installed is setup properly, your listing will show up in their marketplace. Then it's only a matter of time before you make your first text link sale.
Don't get frustrated because it might take a few months before that "You've got new links to approve" email comes from TLA. You need to think of this as a long-term investment because once someone buys a link, they'll want it for several months.
More facts about TLA
You receive 50% of the sale price for each text link ad sold off your blog
You can display Text Link Ads on the same page with Google AdSense, Yahoo! Publisher Network, and other contextually served ads
You get paid monthly directly to your PayPal account or have them mail you a check
Easy to setup and start on Blogger
So what are you waiting for? Go sign up for Text Link Ads and setup a publisher account and monetize your blog now. It kills me when I see blogs out there without any sort of advertising. I can't stand the "Made for AdSense" sites but if you've got a blog, why not put a couple ads or links to help pay for your lunches?
Stay tuned for the next article in this series about Making Money From Your Blog.
Previous Articles
How to Make Money From Your Blog – Tip #1
Ready to super charge your blog? Check out our professional premium blogger templates or make money by joining our blog affiliate program!
If you like this post then please consider subscribing to our eBlog Templates RSS feed. You can also subscribe by email and have new templates and articles sent directly to your inbox.