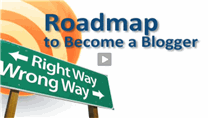 These days a blog is easy to start for just about anyone. After you get your blog going, the next challenge is how to be successful and achieve your blogging goals. Up until now, there was no roadmap or plan showing you how to be a blog master or let alone a blogger.
Fortunately world famous blogger Yaro Starak just sent me a note today about a powerful report he released. It's the blogger's guide you've been waiting for to give you the direction you need. The guide tells you step-by-step on how to become a professional blogger and the best part is it's free!
Inside This Amazing Report you'll learn things like:
[flashvideo file="https://bab-free.s3.amazonaws.com/promo-video-2.flv" width=568 height=340 /]
If you are interested in squeezing the most out of your blog and becoming a super successful blogger, this may be just the information you've been looking for. Check this out – The blogging report has now been downloaded over 20,000 times! That's gotta tell you something about the quality of the report. I mean, heck, 20,000 downloads?
The report reveals a step-by-step guide that takes you from absolute beginner to blogging pro in 5 easy milestones.
And once you have it all set up, you'll also learn some extremely powerful "X-Factor" strategies for driving truckloads of traffic to your blog using a range of multi-media tools and the latest social media tactics.
And of course, you know what that means right? The more traffic you get, the more bucks you can make online! But you should really check it out for yourself and see why so many other people around the world are raving about this report…
Download the free Become a Better Blogger Roadmap and quickly learn how to master your blog.
Ready to super charge your blog? Check out our professional premium blogger templates or make money by joining our blog affiliate program!
If you like this post then please consider subscribing to our eBlog Templates RSS feed. You can also subscribe by email and have new templates and articles sent directly to your inbox.