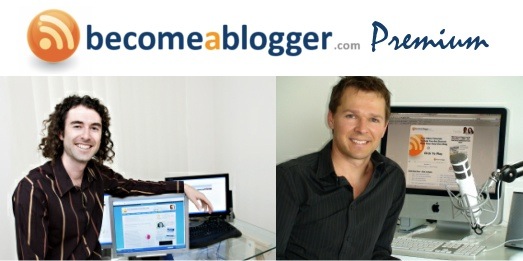 I'm please to announce that one of the most popular resources for new bloggers is reopening its doors to new members for 5 days only!
If you are serious about becoming a better blogger, then I highly recommend signing up for this "Become a Blogger" program. Not only is the content amazing, but Yaro and Gideon (who are very well known and successful bloggers themselves) explain things in a non-technical way so it's easy to understand for anyone.
It's one of the best, if not THE best blogging courses out there at the moment, and is recommended by dozens of professional bloggers around the world.
Yaro and Gideon are very talented at explaining things in layman's terms and have put together this amazing online video course based on their very popular Become A Blogger video series. They've already had over 100,000 downloads for their blogging tutorial videos. If you read the Roadmap to Become a Blogger, then you know the quality of Yaro and Gideon's work.
The resource is broken down into 8 Modules over 6 months – with a number of other bonuses. Here is what's covered:
Get Your Blog Up And Running Fast And FREE
How To Optimize Your Blog For Maximum Search Engine Performance
How To Create Powerful Content For Your Blog, Consistently and Without Fail
How To Use Images On Your Blog To Make You Stand Out From The Crowd
How To Create A Different Dimension To Your Blog By Adding Audio
How To Breathe Life Into Your Blog Using Online Video
How To Create Multiple Streams of High Quality Traffic To Your Blog
How To Make Money From Your Blog
Bonus #1 – How To Use The "X-Factor" Strategies To Put Your Blog Into Super Drive!
Bonus #2 – A range of other bonuses including a 10 part audio series on "Master the Mindset" – access to the Become a Blogger Forums and special members only Teleconferences.
But don't take my word for it, go read more about their program here.
They are keeping doors open for ONLY 5 days, and then they will shut it again for the rest of the year! Crazy I know! But they said that they needed to limit the numbers somehow.
Last time they opened doors, they were bombarded with a flood of new members signing up, and they had to close the program to the general public for a few months to take care of their new members. But I just wanted to make sure you get in this time.
Previously Become a Blogger was $77 a month and it sold out within days. This time they've dropped the price to $47 which is a steal for the value! You can either sign up on a month by month basis or invest in it up front for the 6 months get a discount.
They only allow a limited number of students so they can focus all their time and energy on a select few. There is also a money back guarantee so if you're not satisfied with the results, you can simply ask for your money back. How can you go wrong with that?
Head on over to the Become a Blogger site and read more about their program now. There's not much time so I recommend doing this sooner rather than later otherwise it might be too late!
Signup for Become a Blogger now.
Ready to super charge your blog? Check out our professional premium blogger templates or make money by joining our blog affiliate program!
If you like this post then please consider subscribing to our eBlog Templates RSS feed. You can also subscribe by email and have new templates and articles sent directly to your inbox.