Advertise
Looking for some highly targeted exposure to your business? Advertising on eBlog Templates might be just what you need. eBlog Templates generates over 480,000 page views per month from over 120,000 unique visitors (not including RSS readers). On average, each visitor spends over 5 minutes on the site which means advertisers get a ton of branding and exposure.
The site is targeted towards internet entrepreneurs looking to make money online, bloggers shopping to buy a new premium WordPress blog theme, and general bloggers just wanting to change their Blogger template.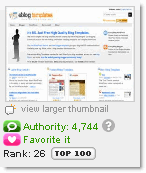 Other Notable Stats:
– Technorati rank: 26th (Top 100)
– Ranked #1 in Google for "Blog Templates"
– Over 400,000 template downloads in 2009
– Over 70,000 active members and growing
We offer several different ways to build your brand and get your message to our large and loyal readership. Ad buys are sold on 30-day periods using the BuySellAds.com network service. Ads will auto renew every 30 days unless you cancel the subscription.