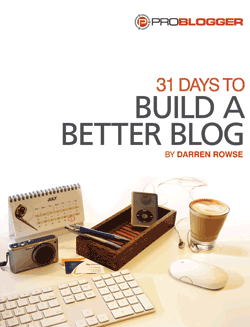 If you haven't heard the name Darren Rowse before then now is the time to listen. He's a very popular blogger who makes 6-figures a year on his Problogger site and definitely knows his stuff. A while back he put together a month long series called "31 Days to Build a Better Blog" and it was such a hit, he decided to turn it into an e-book.
This downloadable e-book is designed to help you jump-start your blog by giving you 31 tasks that will turn your blog into the powerhouse you've always dreamed of. The great thing about Darren's e-book is that you can do it at your own pace and in your own way. Set a goal of reading a chapter a day and take notes. I usually dog ear and highlight the important pieces and come back to them later.
The workbook uses a great approach to teaching and is designed so that you come away from the challenge having not only learned how to build a dynamic blog but you'll have actually done something with the knowledge. 31 Days to Build a Better Blog is for virtually bloggers at different stages of their blogging which includes:
Those who have just started a blog but who don't know what to do next
Those who have had a blog for a while but it's stalled in its growth
Bloggers with bloggers block and lacking inspiration
I was actually in a Borders bookstore the other day and saw a published version on the shelf and couldn't help but pick it up. I first started thumbing through the chapters but soon realized I was reading it word for word. The book was addicting and I learned some things which I apply to my blogging today.
The cost of this e-book is only $19.95 and there's even a money back guarantee.  Darren is one of the best known bloggers in the world. All of his works are top notch and his latest offering is no exception. If you want a better blog, you can have it in the next 31 days. Buy it today and you'll be able to start reading it in minutes. Trust me, it pays for itself!
Ready to super charge your blog? Check out our partners professional premium WordPress themes!
If you like this post then please consider subscribing to our eBlog Templates RSS feed. You can also subscribe by email and have new templates and articles sent directly to your inbox.