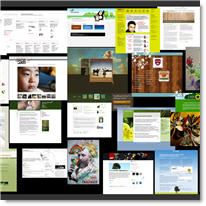 Even though I would consider myself a "Blogging Pro" I don't think I could ever have the patience to design and build a Blogger template from scratch. I'm certainly capable of doing it but the amount of time and effort for me to do it just wouldn't be worth my time.
Now just to get things straight — I'm not a designer so it's not my passion. I'd rather be building or working with blogging technology than designing. I have a lot of respect for website and blog template designers and you would too if you've ever tried to create one yourself.
It's almost an art because you have to first have an artistic ability and understand how to balance out designs, etc. Then you need experience in a design software package like Photoshop CS3 or Adobe Illustrator. After that you need to take the .psd and convert it into .css, html, and images for the blog template!
I bet you didn't even realize the amount of work that goes into building the Blogger templates you are so quick to download and install. Maybe you'll have more appreciation for the next template you download and install. 🙂
So after all my talk about the difficulty and time it takes to create a Blogger template I'm going to give you a great site that will make it easy for you to modify your blog template.
How many times have you downloaded a template that's "almost" perfect? You wish you could change the header image, adjust the font, or add a background image but you just didn't know how to. Well, thanks to Amanda over at Blogger Buster, she gives you a cheats' guide on how to customize your blogger template. Her tutorial isn't really meant for professional designers but rather those like yourselves who wish to change the look of their blog. In other words, I'd say it's perfect for you!
The article is part of a series called "Why your blog design needs to be unique!" which is a great read. I'd subscribe to her rss feed as well so you are able to get the latest posts about blogging design tips and tricks. Great work over there Amanda….I enjoy your posts and I'm sure my readers will as well!
Ready to super charge your blog? Check out our professional premium blogger templates or make money by joining our blog affiliate program!
If you like this post then please consider subscribing to our eBlog Templates RSS feed. You can also subscribe by email and have new templates and articles sent directly to your inbox.