Ever wanted to make your own WordPress theme but you don't know how to program? Well, you're in luck! There's a really cool WordPress Theme Generator where you can select how many columns you want, color scheme, text scheme, menu type, tag cloud, and more — all with just selecting a few drop downs.
Once you've decided on the layout and are ready to create your new blog template, just click the "save" button and you'll get a link to download the zipped files. You don't need any knowledge of HTML, JS, PHP, or CSS and just need to be able to unzip and upload files.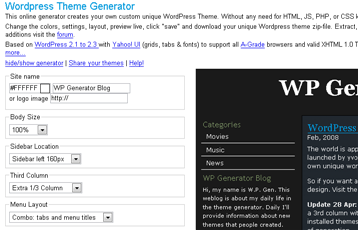 This generator is great for creating basic WordPress themes if you're new to blogging or want a good framework to build on top of. There are only a few images which get created so you'll likely want to spice up your blog (especially your header) with some cool graphics. You might want to read our post on "How to Easily Create Make Your Own Web 2.0 Blog Logo" and instantly add flare to your new WordPress theme.
Ready to super charge your blog? Check out our partners professional premium WordPress themes!
If you like this post then please consider subscribing to our eBlog Templates RSS feed. You can also subscribe by email and have new templates and articles sent directly to your inbox.