The Lifestyle Revolution 2 theme is a 3-column widget-ready theme created for WordPress. It's part 2 in the Revolution theme series and is another high quality theme designed and built by Brian Gardner.
The layout is basically the same as the Church Revolution 2 theme but just uses a different color palette and set of pictures. I see this theme being used more for a travel or vacation blog since it gives more of a tropical vibe. It can of course be used for any sort of blog so don't let me deter you from getting it.
Overall, this nice premium WordPress theme has some great features like a magazine-style home page with an animated featured posts section (that uses mootools which is a very popular javascript library). It also has several spots to place all your ads like 125 x 125 button ads or a 468 x 60 header banner so it's quite flexible. Very nicely designed and full of great features so I highly recommend it. Go check out the live demo!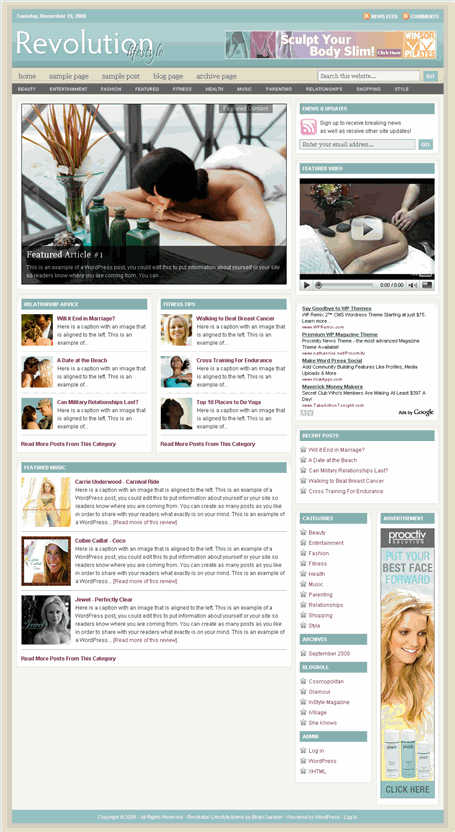 Payment Information
All payments are done through E-Junkie.com which provides a digital delivery of your purchase within minutes after your payment has cleared.
Packages
Single License ($59.95) – This package includes theme download, unlimited theme support, and detailed theme tutorials.
Pro-Plus Package ($149.95) – This package includes all theme downloads, unlimited theme support, and detailed theme tutorials.
This is a great series of premium WordPress themes created by Brian and I would highly recommend them to anyone looking for a quick way to skin their blog with such professional style.
If you have any questions regarding this Premium WordPress theme, please contact the author directly. eBlog Templates only provides a free theme listing service and support is handled directly by the seller. If you have any general comments, feel free to leave them below.
If you like this post then please consider subscribing to our eBlog Templates RSS feed. You can also subscribe by email and have new templates and articles sent directly to your inbox.