Many of us have blogs and templates we'd like to customize but we just don't have the skills or software to do it. It also takes time to make design elements in photo editing software so why even bother right? Well, thanks to a cool new website I found called My Cool Button, you can easily create your own Web 2.0 buttons in only 4 steps!
You'll select the size, color scheme, icon (if you want one), font size & type, and then enter your button text. It's as easy as it can get. You then click on the "apply changes" button and you'll see what your button looks like. Then download it to your computer and put it on your blog!
If you were an early user of eBlog Templates you'll remember the template download buttons looked very similar to these. That's because the first buttons used on this site were made from the My Cool Button website! I needed something quick and dirty and I didn't want to spent a lot of time designing buttons in Photoshop so the buttons I made served their purpose but have since been replaced.
Here's a couple of buttons I made in literally less than 30 seconds. Pretty amazing huh. No need for photo editing software knowledge or to hire a designer!



This is a picture of what the site looks like if you haven't already seen it from the link above. As you can see it's only 4 easy steps (3 if you don't want in icon) and you'll have your new button in no time.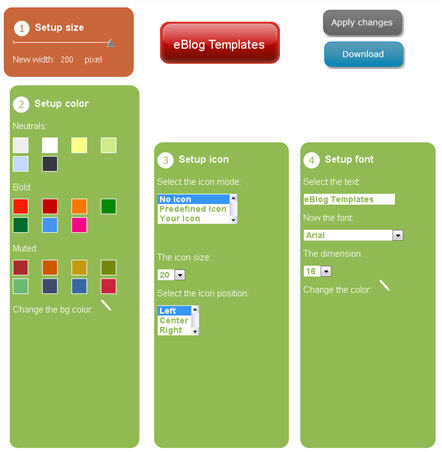 So head on over to My Cool Button and start whipping out cool Web 2.0 buttons for your blog today! It doesn't cost you a thing and you can't beat the speed.
If you enjoyed this article, you might also find How to Make Your Own Web 2.0 Blog Logo article as well. It's another free simple site that allows you to create a personal blog logo in minutes.
Ready to super charge your blog? Check out our partners professional premium WordPress themes!
If you like this post then please consider subscribing to our eBlog Templates RSS feed. You can also subscribe by email and have new templates and articles sent directly to your inbox.