The "One Theme" premium WordPress series comes with a sweet set of features and a nice array of colors to choose from. I really like the tight layout and animated drop down menu items. The design is not too heavy and makes a nice use of all the space.
If you're not an Obama fan don't let that deter you from purchasing this theme. You can of course swap out his image and put McCain's picture there instead.  : -)
Overall, this theme is great and stands up with the best like Adii's Premium News and Brian's Revolution series. The only thing I don't like is the fish header image and dotted background which I'm sure can be easily swapped out. It would be great for a personal or fun website, but for a business or professional site it's a bit too much for me.
The price point seems to be a little on the higher side for where I'd expect it to be for a premium WordPress theme. For $99 you do get a well thought out professional WordPress theme which is a newer theme out on the market.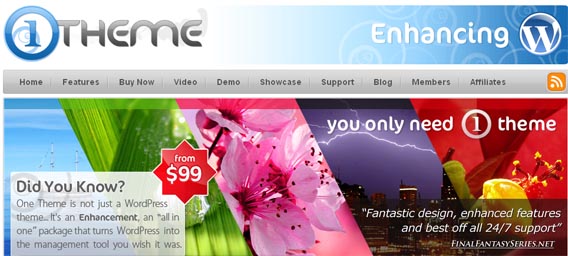 Payment Information
All payments are done through E-Junkie.com which provides a digital delivery of your purchase within minutes after your payment has cleared.
License Information
Webmaster License ($99) –  This package is for the person who intends on only using the theme on one website.
Webmaster Pro License ($199) –  This package is for the person who intends on using the theme on up to three websites.
Web Developer License ($299) –  This package is for a web developer who plans on making up to five sites for clients.
This is a very impressive series of premium WordPress themes and I would highly recommend them to anyone looking for a quick way to skin their blog with such professional style.
If you have any questions regarding this Premium WordPress theme, please contact the author directly. eBlog Templates only provides a free theme listing service and support is handled directly by the seller. If you have any general comments, feel free to leave them below.
If you like this post then please consider subscribing to our eBlog Templates RSS feed. You can also subscribe by email and have new templates and articles sent directly to your inbox.