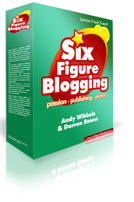 For those of you who have been trying to make money with your blog and just end up spinning your wheels, it's probably time to get some advice from a pro — and a pro blogger by the name of Darren Rowse is just the person. I've spoken with Darren before and he's a very down to earth guy and knows his stuff.
Most of you probably already know who Darren is but if you don't, I highly recommend checking out and subscribing to his blog. He's the voice of the "make money online" community and successfully makes over $30,000 a month just from blogging alone. It's been his full-time job since 2005 so he obviously knows what he's doing.
Well the good news is probloggers Darren Rowse and Andy Wibbels have joined forces to give you a complete step-by-step, 1-2-3 roadmap for blogging success. They've put together a course called Six Figure Blogging which is targeted for anyone who's trying to take their blog to the next level.
They claim the course can help teach you to "Make over $10,000 a month blogging." which seems pretty far fetched to me actually. I'm sure their program will definitely improve your blog's income stream and maybe after several years you'll be making a few thousand dollars a month but $10k seems a bit high.
Darren is by far the most well known professional blogger and is in the top 1% of earners as well. Therefore he makes the perfect trainer for the Six Figure Blogging course and I have no problem recommending it to you.
There's actually going to be a free 1-hour preview of their program on Wednesday April 2nd @ 8pm EST. If anything, you should at least dial in for this and get the free information! All you need to provide is your email address to join. After you listen in on the call, you'll have a much better idea what to expect if you pay for their course.
Update: If you missed the free 1-hour preview call you can listen to the replay here. The early Bird Discount Ends Thursday at Midnight EST (you save $102) so make sure you sign up ASAP for the full course. I just listened to the reply and it sounds like it's going to be a great course for bloggers of all types. The talked about the course agenda and even interviewed Darren about how he started blogging. It's an interesting story actually. He didn't try to make any money for the first year! Now he's raking in the dough so his ideas and information will help you become a pro.
Here's a detailed listing of what each week covers and the takeaways you get:
A complete blueprint for blogging success from choosing a niche to maximizing ad sales to building a complete network of blogs.
6 info-packed expert calls with Darren and Andy where they reveal the top strategies for building blogging success
Tons of resources, tools, service providers and links to ensure your success
Access to annotated recording transcripts and notes so you can guarantee your learning and success
A complete set of recordings and transcripts from the original run of the course
Course Outline
Here's a brief outline of what will be covered in the six-part course:
Week 1: Quick Review and Getting Started
Quick review over blog functions, basics and definitions
Walk through of Six Figure Blogging Blueprint
How and why blogs make money
Why Google loves blogs
Examples of six figure bloggers
What to consider when choosing a blog tool
Week 2: Choosing a niche
What makes a great niche (and what makes a terrible one)
How to evaluate possible niches for maximum profitability
Choosing the right niche for your passion and personality
Week 3: Mastering Google AdSense
How AdSense works and how you can work AdSense
Where to place ads for maximum clickability
Proper setup of your AdSense account to ensure you get the right ads on the right blogs
Week 4: Affiliate Programs
Where to find the best affiliates that fit with your blog's niche
How to cultivate partnerships and joint-ventures with other entrepreneurs
Pointers in positioning affiliate products so they are correctly related to your content
Tracking clickthroughs and traffic to your affiliates
Week 5: Metrics and Content
Using RSS to create a constant stream of content
How to write content to create maximum search engine optimization and Google-juice
What statistics to track and how to use them to adjust your site for better performance
Strategies to create buzz and promotion for your blog
Week 6: Above and Beyond
Other revenue streams to build into your blog
Resources for designers and other geeks to help you get started
How to replicate your success into an entire empire of blogs
Six Week Intensive Course Schedule
Six 1-hour calls over six weeks on Wednesday evenings:
April 9 @ 8pm EST
April 16 @ 8pm EST
April 23 @ 8pm EST
April 30 @ 8pm EST
May 7 @ 8pm EST
May 14 @ 8pm EST
It's a pretty packed course and to get that much time and advice from such pros like Darren, it's well worth the $325 in my opinion. This is of course an investment but one I think is well worth the cost. They also offer an affiliate program which pays you 25% for each person you refer. eBlog Templates is a Six Figure Blogging affiliate!
So if you're the type of person that prefers to have a clear "make money online" blueprint to follow with a little cash to invest in quality education, then Six Figure Blogging is perfect for you. You'll get all the tools you need to become successful and not only that, you'll get to network with Darren and Andy.
Notice, the class officially starts April 9th @ 8pm EST so make sure you sign up prior to the deadline!
Ready to super charge your blog? Check out our partners professional premium WordPress themes!
If you like this post then please consider subscribing to our eBlog Templates RSS feed. You can also subscribe by email and have new templates and articles sent directly to your inbox.