Any of you who have tried to change Blogger templates or moved around your blog's page elements have probably seen the dreaded Blogger "bX-xxxxxx" cryptic error message.
"We're sorry, but we were unable to complete your request. When reporting this error to Blogger Support or on the Blogger Help Group, please:

Describe what you were doing when you got this error.
Provide the following error code and additional information.
Great…this really helps us fix the problem right now. It's frustrating enough to see an error message after trying to make what seems like a trivial change to your blog and how can you fix the problem if you're given an error code instead of a actionable error message like "template is incorrect on line xx"? Blogger's support area doesn't even give you information on what each error means and how to resolve it so if you want their help you need to post a message and wait 12+ hours for someone at Google support to respond. You would think Google would spend some more time and resources to improve their error messages and Blogger support.
So the main question is what does the error message actually mean and how can you fix it now?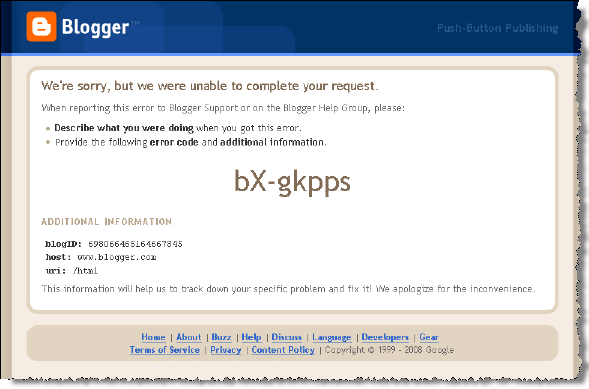 For me, I was able to fix it by making a few changes but there was no exact science as to how I did it. I first attempted to search Google for a solution as well as Blogger's help center and support group. No such luck. What I did discover though was the numerous others who had similar bX error messages as me with no resolution. Apparently the best way to get assistance is to first read Blogger's How to Report a Problem and then post in the Blogger support group. I wasn't interested quite yet and wanted to fix the problem myself (or at least try) before posting in Blogger's support group.
What I discovered when trying to repair my blog was the following:
The bX-xxxxx error codes don't mean anything specific. The characters after the bX- change each time so there's no logic behind the numbers. Next time you get an error, try refreshing the page a few times. You'll notice the error codes actually change even though your error should still be the same.
When I tried to modify my page elements (clicking on the wrench/screwdriver icon) within my browser using Firefox I later had trouble. Seems to be a bug within Blogger.
Clicking on the "Revert widget templates to default" link within the "Template" => "Edit HTML" page didn't fix nor hurt anything (besides losing my widgets). In other words, don't do it.
Adding a new Blogger template and clicking "Save Template" instead of "Preview" showed me a couple of page elements like Text1 and Footer1 that were going to be deleted. The problem was, I didn't have either of those in my current Blogger layout. They were removed via Firefox previously (don't edit Blogger layout using Firefox).
Switching over to Internet Explorer I was able to successfully apply the new template. I then could go back to Firefox (my browser of choice) and modify or apply any other new template.
So in my experience Firefox as well as some ghost page elements that I previously removed seemed to cause the issue. If you are troubleshooting your own bX errors and using Firefox, I would switch over to Internet Explorer and apply a new template. If you only use IE and still get a bX error, I would first try another Blogger default template (there might just be a problem with your new template) to isolate the issue.
If that fixes it then you know it's the new template having trouble interacting with your page elements. If it's still not fixed with the Blogger default template then it's probably because of your page elements. If you don't mind removing any custom page elements you may have (you'll lose the data within the page element if you do) then one by one, remove the page elements. Apply the new Blogger template after each time and see if that fixes it.
Conclusion
Unfortunately there isn't a clear cut solution for addressing the Blogger bX error codes. In most instances, each case is unique depending on the number of page elements you may have, the type of page elements, and the template you're using. I feel really bad for the hundreds of Blogger users out there who come across this bX error and don't know what to do. I do have confidence that Google will soon enough fix this issue one way or another because it's eventually going to become a huge issue (it's already a big deal).
If you've attempted to fix your blog using the techniques I've mentioned above and still didn't have any luck, feel free to comment below. We will do our best in answering your questions but can't promise any solution. I'd also post your error information in Blogger's Help Group so in case you can't figure it out yourself, someone from Google will fix it for you within the next day or so.
Ready to super charge your blog? Check out our professional premium blogger templates or make money by joining our blog affiliate program!
If you like this post then please consider subscribing to our eBlog Templates RSS feed. You can also subscribe by email and have new templates and articles sent directly to your inbox.