In order to enable the Recent Posts and Recent Comments page elements in your recently downloaded Blogger template, you need to follow a couple simple steps.
These lists aren't going to show up when you first install the template so we're going to bring them to life now. They are actually both RSS Feed widgets so we'll need to paste in your feed and comment rss feeds to make them work.
Let's start with the Recent Posts page element so click to edit it. Then paste in your RSS feed url which will most likely be in this format https://YOURSITE.blogspot.com/feeds/posts/default . Make sure to replace "YOURSITE" with your actual blog url.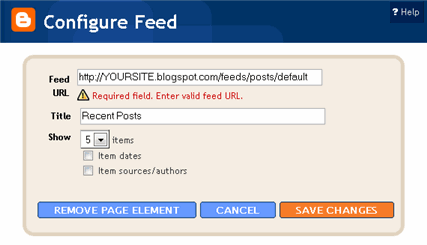 There's no need to change the title (unless you want to call it something else) so then hit "Save Changes". Then save your blogger layout and go over to your other browser window, refresh and see the Recent Posts appear in your blog's sidebar.
Now you're going to do the exact same thing with the "Recent Comments" page element but you'll instead use this feed format https://YOURSITE.blogspot.com/feeds/comments/default . Again, make sure to replace "YOURSITE" with your actual blog url. Save and make sure it's working properly. If it doesn't appear on your blog, chances are you don't have the correct feed url or you might not have any comments yet.
If you really want to fine tune your Recent Posts and Comments settings like increasing the max number displayed to 10 you can. Go read our advanced recent posts settings article and take your widgets to another level.
Ready to super charge your blog? Check out our professional premium blogger templates or make money by joining our blog affiliate program!
If you like this post then please consider subscribing to our eBlog Templates RSS feed. You can also subscribe by email and have new templates and articles sent directly to your inbox.