This may not be a web 2.0 three column Blogger template but it sure seems like one. It's actually only two columns but it's very clean and well laid out. It's got dynamic tabs which are setup using your Blogger layout screen. Just edit the "top tabs" widget and enter all the tabs you want. The "home" tab will appear by default after you enter your first tab.
The popular "FEEDJIT" widget is also installed which shows you real-time traffic visitors to your blog. All the colors are setup so it's ready to go. This template is AdSense ready and has been enhanced to include a 728 x 15 link unit right under the tabs. You'll need to edit the code to change this out with your own AdSense code. There's a couple steps to get it to match properly so please pay attention.
After you find the <div id='header-unit'> tag, you'll want to swap out the block of code below that. Before you paste in your new code you'll need to convert it into a Blogger compiler-friendly format. Don't worry, we've got you covered. You can use our free AdSense Blogger Code Converter tool to do this.
Here are the colors you want to setup for the AdSense unit. Border: #38454E, Links: #FFFFFF, and Background: #38454E.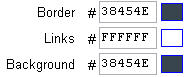 If you don't want the AdSense code in there at all, it's easy to just rip it out. Delete everything between the header-unit div and save. Make sure you backup your template just in case you make a boo boo.
The template was designed by Makequick and converted to a Blogger template by Akbach at B-themes.
Ready to super charge your blog? Check out our professional premium blogger templates or make money by joining our blog affiliate program!
Want to make your blog stand out from the crowd? I recommend giving your newly downloaded Blogger template a unique and personalized look. Read our Free Blogger Header Images article and find yourself a great custom header image!
If you like this post then please consider subscribing to our eBlog Templates RSS feed. You can also subscribe by email and have new templates and articles sent directly to your inbox.