One of the shortcomings of Google's Blogger is the lack of a quality commenting system. Out of the box, it comes with a very generic non-interactive inline comment reply system that works fine but is to basic for most people. Luckily there's a new website called Intense Debate that provides an amazing free commenting package which will impress your readers and really super charge your blog.

Intense Debate allows you to replace your standard blog commenting system with what they call "A completely new tool for conversation". It's very easy to setup using their wizard even for a custom Blogger template. You'll also need to import your old comments which isn't too difficult either and add the new widgets to really spice up your blog.
Features Include:
Easy to setup code – Wizard system automatically updates your existing template with the required code
New comment email notifications – Don't waste time checking back on a blog to see if anyone responded to your comment
Reputation and comment voting – Move the best comments to the top based on their reputation
Sidebar widgets – Add widgets like recent comments and a top commenter widget
Social traffic drive – Link to several major social sites you are a part of to give fellow readers an idea of who you are
Track people, blogs, and more – Allow your readers to track comments and the people who make them across different blogs
User profiles – Have readers setup their own profiles which they can use on any blog using Intense Debate
Threaded comments – Discussions are organized into threads so they're easier to follow
Keep your existing comments – Import your existing comments so you don't lose them
Getting Started
Ok, you're sold on using Intense Debate as your new commenting system and want to get started. First you'll need to enter your Blogger url, then sign up for an account, and then you'll be presented with two options. You can either install Intense Debate as a widget or have Intense Debate automatically insert the required code directly into your blog template. The latter is their recommended choice and what I did.

You'll then be presented with the "Advanced install guide" which includes five steps. The last step has you upload your template into their system so it will automatically insert the required comments code. It's important to note the "Replace comments on" section because if you select the "All posts" option, you'll need to import your existing Blogger comments into Intense Debate in another step later. This is the option I recommend you choose so all your comments are unified.
Some people select this option and then are surprised when they look at their blog because it looks like all their comments were deleted. The comments are still there but sitting on the Blogger server. Remember when you start using Intense Debate, you are saving all comments into their system.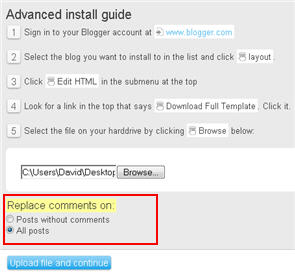 Before you click the "Upload file and continue" button, make sure you've made a backup of your template just in case something goes wrong. When I first tried using Intense Debate's, it altered some of my custom template code which screwed things up. It wasn't a big deal because I could just go back into the code and make the changes myself, but for those who are less inclined to make changes, it's better to just have a backup. Hopefully you won't have any problems but chances are you'll need to tinker with the code a bit after Intense Debate inserts it's sections.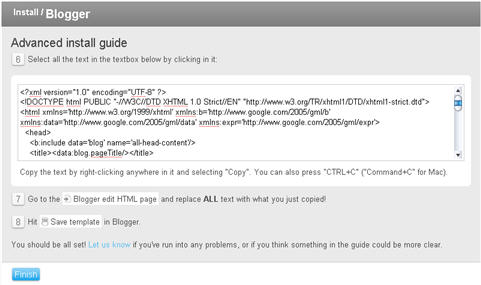 Here's the last step which basically spits back your original template with the additional Intense Debate sections added. Copy this and paste it back into your Blogger html editor. Save it and go look at your blog. Click into one of the posts and you should now see a cool blog comments section built right into the post footer which will look something like this: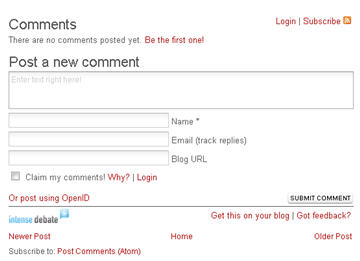 Ok, now that you've got the code setup correctly, it's time to import your old Blogger comments into the Intense Debate system. Go back into Intense Debate and click on your blog name tab => tools => import comments. The screen you should be at will look something like this.

Enter your Blogger username and password and then it will ask you which blog you want to import the comments from. Now it will automatically import your old comments into your Intense Debate account. Go over to your blog and make sure the comments made it over ok.
Add Widgets
If you really want to take advantage of the extra features provided by Intense Debate, you'll want to add at least one of the free widgets. I like the recent comments and top commenter widgets which will add some cool flare to your blog. If you already have a recent comments widget that uses your rss feed, it most likely won't work anymore because all your comments are being sent to Intense Debate. You have two choices, either update your existing recent comments rss feed url with the new Intense Debate one, or remove that widget and replace it with the Intense Debate one. The choice is up to you and how it fits into your blog's layout.
Here's an example of what the top commenter widget looks like: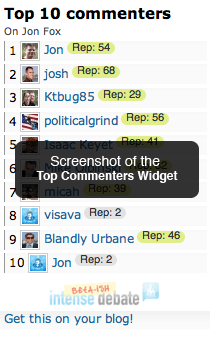 Other Options
I urge you to spend some time getting familiar with the dashboard in Intense Debate since there are many options you can setup. It will give you 100x more power than the default Blogger commenting system and really give you a handle on your blog comments. Here's a couple of screenshots of my dashboards: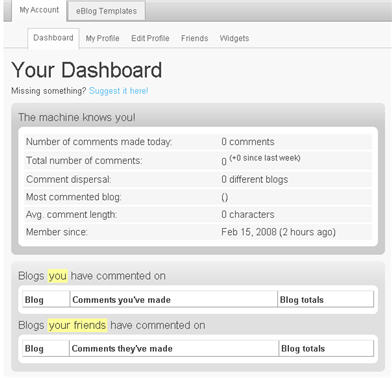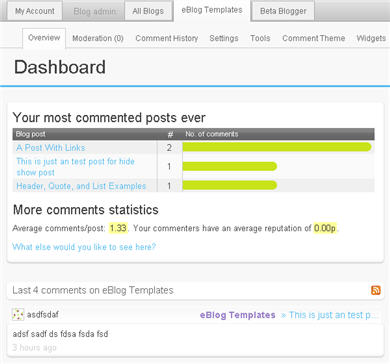 Summary
This commenting system is really a great addition to any blog especially Blogger because of it's lack of features. It's easy to setup (it took me 15 mins) and comes with a ton of great features. There are a couple other things to point out before you decide to make the switch. In order to moderate or view anything related to your comments, you'll now need to login to this system separately. Also, although it's not required, it's beneficial for anyone posting a comment on your blog to have an Intense Debate account. They don't need one to post comments, but if they want to add a custom picture next to their post, vote on comments, etc they'll need to login.
Lastly, if you're using a Blogger template with custom comment sections (like comment count on the post), you might need to tweak the template code after Intense Debate adds it's required sections. For me, I had to modify it a little bit before it was displayed properly in my template. Not a big deal, but worth noting.
Overall, I highly recommend using this commenting system because it gives you much more power over the boring bland Blogspot commenting system and it also makes your blog look and act much more professional and it's fun to post/rate comments. Give Intense Debate a try and let me know what you think.
Ready to super charge your blog? Check out our professional premium blogger templates or make money by joining our blog affiliate program!
If you like this post then please consider subscribing to our eBlog Templates RSS feed. You can also subscribe by email and have new templates and articles sent directly to your inbox.