Alright folks, this is the enhanced version of the original Mush Blue Blogger template. Actually this template was originally created by Mukka-mu as a WordPress theme but it was so popular, it was converted into an xml Blogger format. This template is kind of a spacey or underwater scene with a cool blue amoeba-like header graphic. This template would work well with most businesses or personal sites.
Lots of people who have downloaded this template from JackBook have experienced problems because the images and javascript files aren't working. It's not his fault that the template is so popular and the image bandwidth runs out every day so you can't blame him. So to circumvent that issue we've taken Jack's work one step further and all images and javascript files are already hosted so you just need to download and install the template.
Not only that, but we've also added the RSS feed icon and search box which aren't available in other downloads of this template. You'll also notice that header tabs are dynamic and will show up once you edit the link widget. Just look for the "Top Tabs" widget box in Blogger page element edit mode. It will look like this: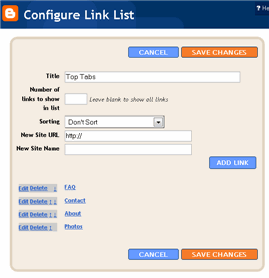 You don't need to add a "Home" tab since it will automatically appear once you add a new tab. Add as many tabs as you want and link them to wherever you like!
PLEASE READ: There's one important configuration you need to make in order for the date to display properly on each post. After you install the Mush Blue template, go to your Blogger's "Settings" => "Formatting" and look for "Timestamp Format". Make sure you change it to this format: "Tuesday, January 25,2008" as shown below.

This needs to be set in this format otherwise the date won't show up properly on each of your posts! Actually the date will most likely be blank and you'll think the template is broken.
If you do have your own website I would recommend moving the javascript file to your own server. Then you won't be dependent on another server to host it and see the famous "disk quota max reached" message. This file formats the date of each post so it's important to have. (Thanks to Jack S. for coding it!)
Step #1
Download the .js file from here. Then save the file locally. Next you're going to want to upload it to your website (not Blogger though).
Step #2
Then you want to update your Mush Blue Blogger template and point it to the new location. You're going to change line number 8 which looks like this:
<script languange='javascript' src='https://eblogtemplates.com/inc/js/mod_date.js'></script>
to something like this where you uploaded the mod_date.js file:
<script languange='javascript' src='https://www.YOURWEBSITE.com/mod_date.js'></script>
Now save your Blogger template and make sure the date is properly being displayed still. If not, you didn't do it correctly.
Revision History
1/20/08 – I've rewritten the template code so you no longer need a separate .js file for the date to work properly. If you've downloaded this template previously (prior to 1/20/08), I'd recommend downloading it again so you've got the latest version. If this is your first time downloading this template from our site, then you can ignore this since you'll be getting the latest version for free.
2/1/08 – Now includes the rss feed widget, search widget, header tabs link widget, and a header bug fix (thanks to Nick for catching it) . If you want these great new out of the box features you'll just need to download the template again.
4/17/08 – Fixed the top nav "edit" button so you can now add tabs. Also added FeedIt widget, created demo site, added missing footer feed link, and compressed the css so the template loads faster.
Looking for the WordPress version? Your wish is our command. Here's the WordPress Mush Blue theme!
Ready to super charge your blog? Check out our professional premium blogger templates or make money by joining our blog affiliate program!
Want to make your blog stand out from the crowd? I recommend giving your newly downloaded Blogger template a unique and personalized look. Read our Free Blogger Header Images article and find yourself a great custom header image!
If you like this post then please consider subscribing to our eBlog Templates RSS feed. You can also subscribe by email and have new templates and articles sent directly to your inbox.